Nearly all of our suites now have Unlimited Wireless 300 through SHAW Bluecurve (soon to be ROGERS – Ignite TV).
TV Boxes are now all wireless so most everything is run off the main internet router. Suites equiped with Telus operate in the same manner
Each Shaw (or Telus) remote is singulary paired to each TV and TV box in your suite, so please try not to get them mixed up. These remotes are the are the preferred method to operate your television ON/OFF and Volume functions.
If the TV does not turn on using the shaw remote, please look for another remote in the suite and try that one. It is very rare that the remotes will not pair with the TV for on/off and volume, but if so, the actual TV remote should be beside the television or in a nightstand close by
In some cases, the TV may turn on but the screen may be blank. Please use the remote or the TV itself to align the Input Button for the TV with the Cable Box HDMI input.
Wi-Fi: You may need to reset the Wi-Fi Modem as this brings signal into all the cable boxes incluing your wi-fi access.
Resetting a the Wi-Fi Modem – This is a tall dark Grey box usually located in the living area, but it is noticble as it will have a power cable and a round coax cable going into it.
Make sure you are resetting the correct box, as the Wi-Fi Modem will have the NETWORK NAME: Setup-xxxxx and Password on the bottom of the device (word,number,word).
Unplug for 1 full minute or put a pen into the small reset hole on the back of the modem below the coax cable connector for 10 full seconds (it will reboot twice to find the best signal)
Wi-Fi codes are on your check in document. SSID is the Wi-Fi Network, and the Password is the Wi-Fi Password, codes are on the bottom of the Wi-Fi router itself (word,number,word).
If you cant see the SSID on your device, please hard reset the unit using the pen method above.
For a faster response to Wifi or Shaw Channels, please call the Shaw Bulk Support Team, Mon-Sun, 7am-9pm (please have your resort address and unit number to hand and let them know you are a guest/tenant and ask for them to send a "REFRESH" to the box in question)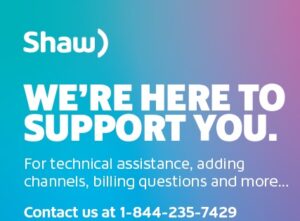 If this does not work, please call our office during business hours on 250-860-7368